Democracy is one of the cornerstones of life in the United States and, as we firmly set out feet in the year 2020, many other countries worldwide. So, it stands to reason that our mainstream public education systems were created to replicate active democratic participation in a free and meritocratic socie…
Wait. The problem is that mainstream public education wasn't set up like that. In fact, it is the exact opposite. Students didn't (and many still don't) enjoy very much (if any) power to choose what they learn, curricular leeway to best suit how they learn… and, maybe most importantly passion, because the learning process can take on the feel of a self-prescribed achievement in life.
And as anyone who has done so can attest to, when we can set our own goals and then accomplish them, the feeling of achievement we get inside far outweighs any number on a test sheet, or any conciliatory "pat on the head" from anybody else.
This is why we at the Small Schools Coalition are proud to showcase our friends at Alternative Education Resource Organization (AERO), who help bring mainstream educational alternatives to communities of all types, and children of all ages, all over the world!
What are Mainstream Educational Alternatives?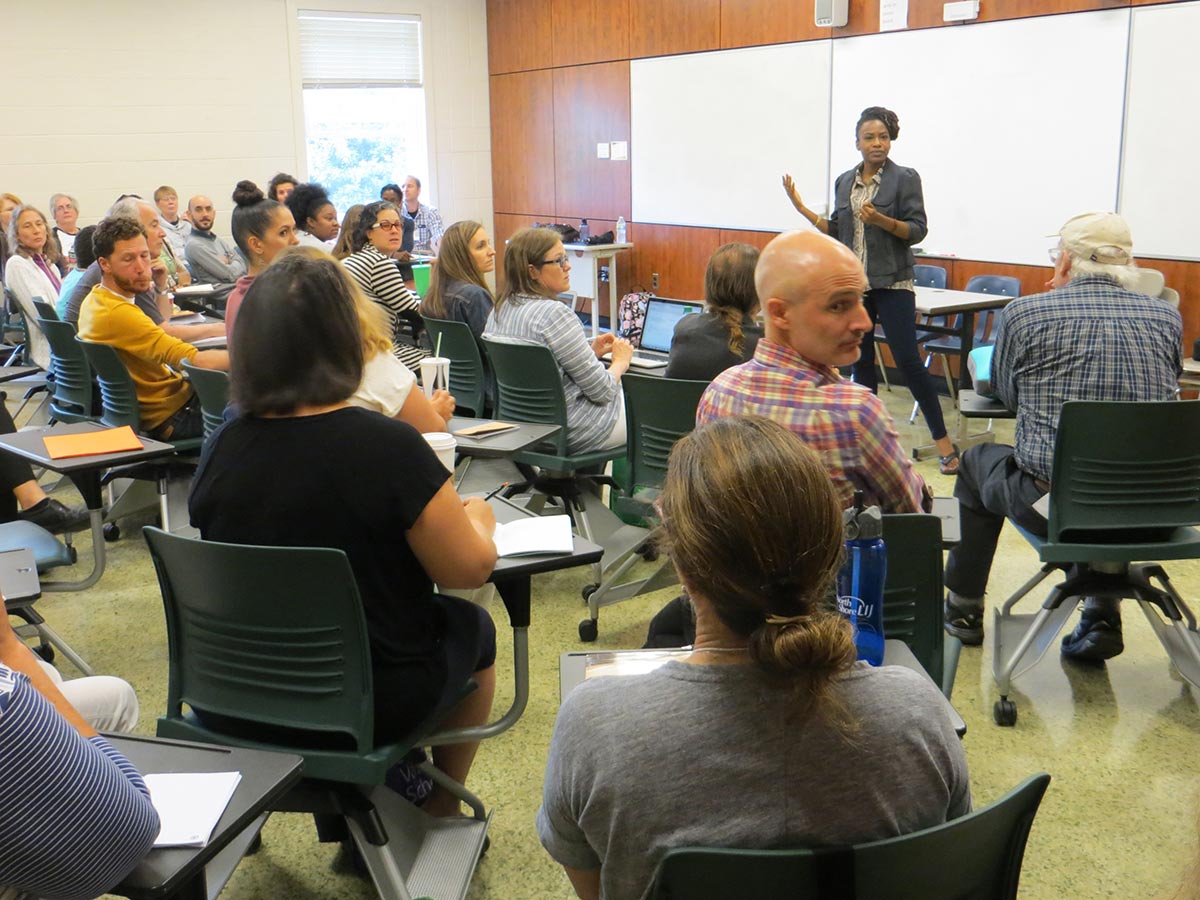 Attendees of the 2017 AERO Conference in New York (photo courtesy of AERO website)
AERO member schools specialize in various mainstream educational alternatives. Some of the more popular ones are: 
Home-Based Education.

Also called "homeschooling," this can occur fully independently ("unschooling"), through an umbrella curriculum, or (to varying degrees) in conjunction with education systems and outside professionals.
Montessori Education. Founded by Italian education pioneer Maria Montessori, 

children are introduced to materials and activities according to development and interest, with much of each day spent in independent study.

Waldorf Education. Founded by Austrian Philosopher Rudolf Steiner, the curriculum draws upon the mythologies, legends and arts of the great civilizations through history to awaken the creative and emotional life within every child.
Democratic Education. Also called "free schooling," the AERO Directory of Democratic Education defines this as 

"education in which young people have the freedom to organize their daily activities, and in which there is equality and democratic decision-making among young people and adults." 
With the trend of standardization and school consolidation in mainstream education over the past 20 years, our conversation with AERO's founder, Jerry Mintz, gravitated toward small schools' potential for creating empowered learners who become emancipated, i.e. "free" or "democratic" citizens.
Is Democratic Education Exclusive to Small Schools?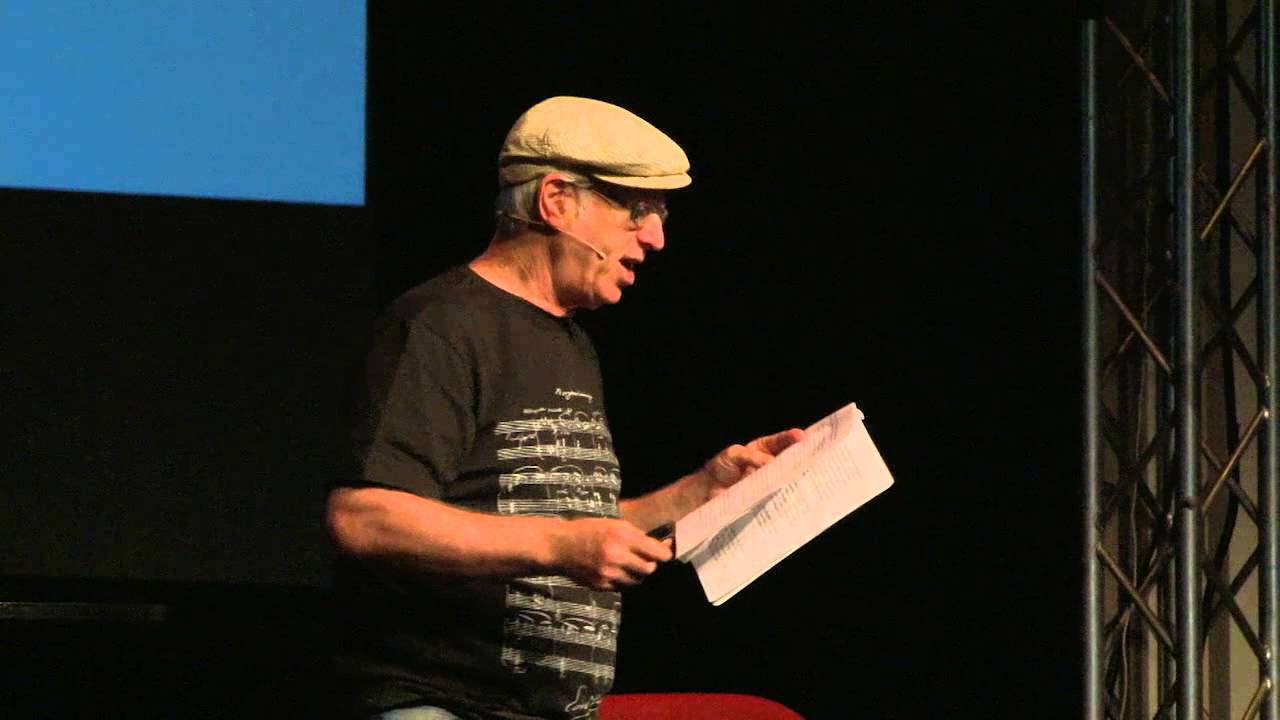 Jerry onstage giving a TED Talk – 2013
Since he founded AERO in 1989, Jerry has traveled the world helping educators, administrators, parents, pretty much everyone who seeks to implement student-centered educational alternatives… including the unique curricular structure for Democratic Education in schools of all sizes.
Yes, that is correct. Democratic Education is not exclusively a small school characteristic. In fact and according to Jerry, one of the most successful democratic schools in the world is located in Moscow. It is called the School of Self Determination and has over 600 students! And for that matter, neither is student-centered education. The truth is that some small schools never come anywhere close to either, while some larger schools around the world excel in both.
And this is a fundamentally important aspect of small schools in general that many people outside of our community, and even a few who are considered intimate parts of it (at least on the surface), can easily misunderstand: Just because it says "small," doesn't make it democratic, or even student-centered for that matter. The best real-world example of this is the Gates Foundation's fumbling of small schools on a massive scale. According to Jerry:
"At one point, Bill Gates realized for some reason that schools in our (AERO) network were very effective. At the time, I knew the head of his foundation, so somehow our worlds bridged and he (Gates) learned about small schools. But he got the idea that the reason the schools were successful was because they were small… which, of course, is not true.
They were successful because they treated students with respect, and they understood children are natural learners and that you should build on their natural passion to learn, rather than force them to learn things that they're not interested in.Of course, modern brain research supports the natural learning hypothesis, and that is why so many small schools in our network, both those that practice democratic education and those that don't, are so successful."
Of course, Jerry feels that small schools definitely provide what can best be termed an "organic" backdrop for both student-centered (in general) and democratic (in particular) education:
"The smallness is definitely important, because it is more likely you will individualize what you do if you are in that type of learning environment."
But just like everything else in education and life, context is key….
The History of Democratic Education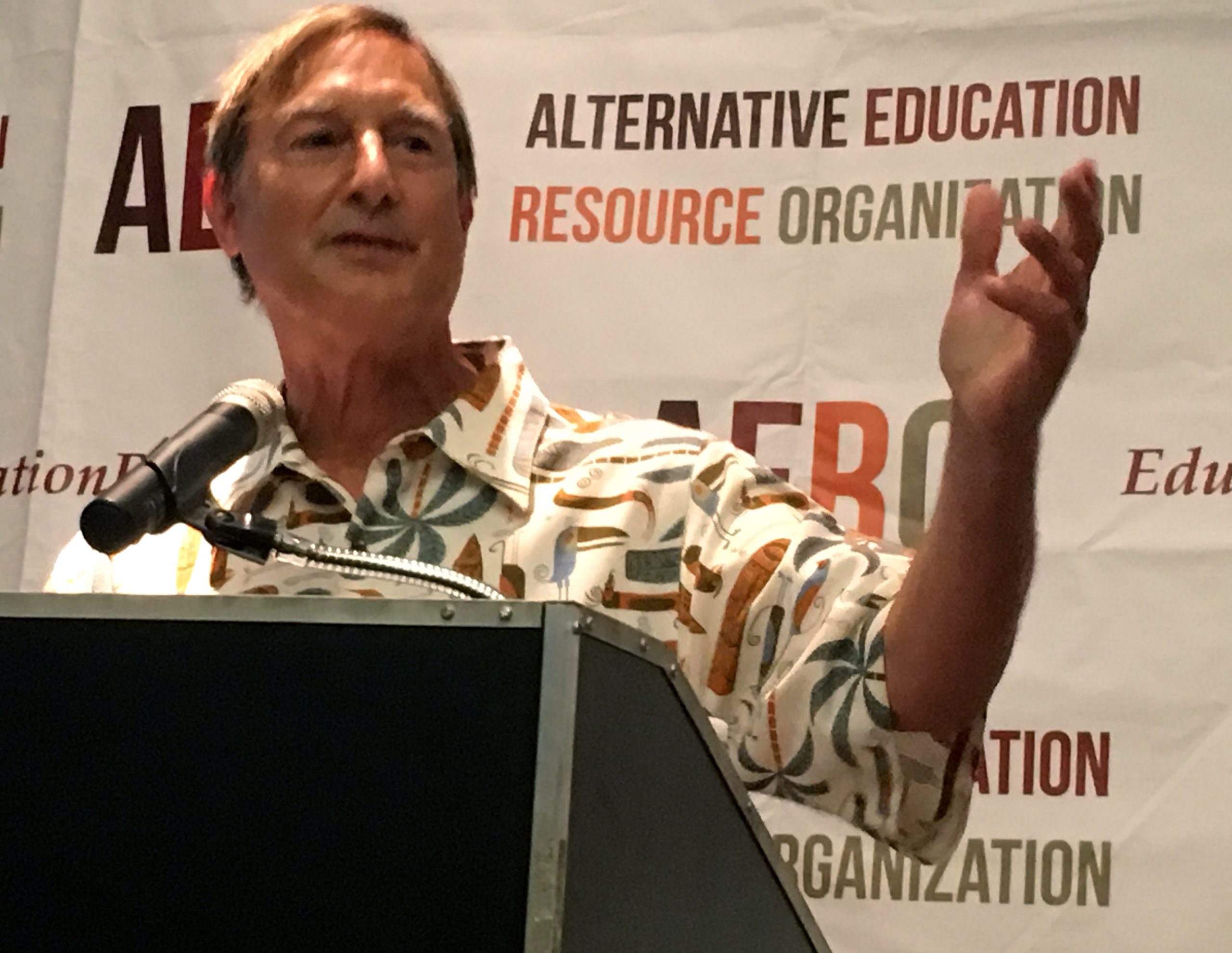 The Small Schools Coalition's founder, Dr. Stuart Grauer, speaking at the 2016 AERO Conference
Like any notable movement, Democratic Education has a somewhat radical, dare-we-say controversial past in terms of its relationship to the mainstream power structure of the society it exists within. Such was the case with the Anarchist movement in Spain only a century ago.
In 1901, Francisco Ferrer founded the Barcelona Modern School. Its purpose was to offer a libertarian, secular curriculum that promoted dignity, self-reliance, reason, critical thought through a secular, libertarian curriculum. Ferrer and other radical thinkers considered the Modern School an attractive alternative to the religious dogma and compulsory lessons prevalent within Spanish schools.
This was a huge step forward in the movement toward emancipatory or "free" (i.e. democratic) education in the modern world.
The school became so popular so quickly that, in 1906, Spanish authorities and Catholic Church used the assassination attempt on the Spanish King to close the Modern School and temporarily imprison Ferrer.
But in 1909, Ferrer was arrested and charged with helping orchestrate a week of insurrection called Barcelona's "Tragic Week." As a result, he was sentenced to death and publicly hanged. According to Joe, Ferrer's last words before falling through the gallows were "Long Live the Modern School." This also made him the most well-known educational martyr of the modern era.
Ferrer's dying wish for education was fulfilled through a movement of anti-establishment, "counter culture" schools throughout the world. In the United States, modern schools existed from 1911 to the late 1950's. The most popular of these was Mohegan in New York. Former teachers and students still meet annually. Jerry recounted how they would reminisce about educational experiences predating (many times more than not) fantastic lives spent as empowered, intelligent, successful adults… defined not (just) by their standings in life, but more importantly by the fact they were actively encouraged to learn for its and their own sakes. In the process, these students cultivated a passion for learning that allowed them to create their own meaningful existences thorugh educational experience.
The Staying Power of Democracy in Education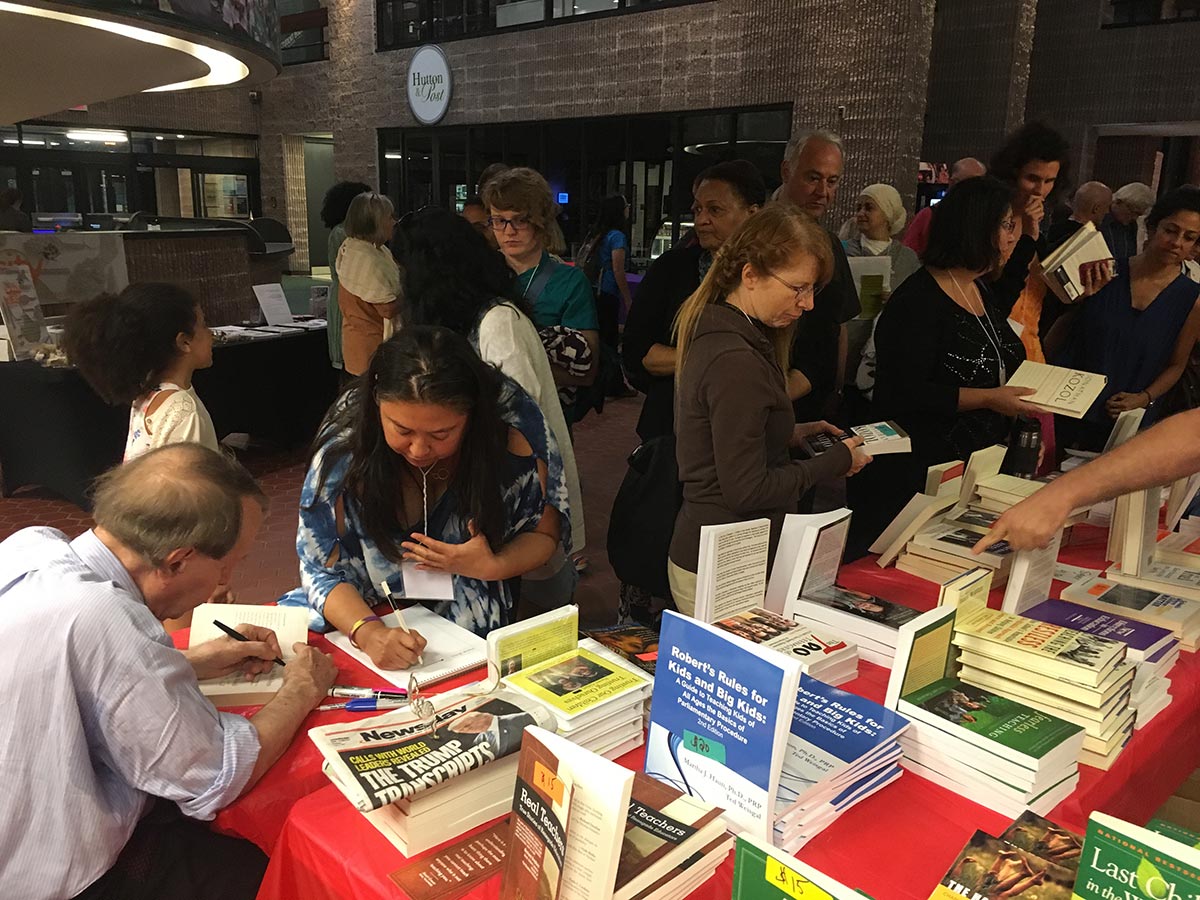 AERO authors autographing books for attendees
Although Ferrer's Modern Schools are officially gone from the educational landscape, his spirit lives on in every school of any size that places primary importance on the value of education for the learner's sake. In terms of democracy, the Modern School lives on in the approximately 250 AERO member schools (out of around 600 total  that allow their students to have a vote and thus, democratic say in how their schools run.
According to Jerry, "as people discover what is happening with these schools they are jumping on it (the movement)."  He goes onto explain…
"For example, we have members located in Japan, Russia, Ukraine, and several countries in Africa, South America, not to mention here at home.Recently a student from Poland in AERO's School Starter Course started the first democratic school in Poland. Now there are 50." 
And just how important are democratic schools in particular, and student-centered education in general, at this point in time?
"I don't know what will happen as a result of this situation (school shutdowns due to the global COVID-19 pandemic). I'm hoping that a lot of people will realize that the time is perfect to look for learner-centered schools, either to start them or join them. I am still very busy speaking to people about education right now, both starting schools and people looking into them for their children (we caught him in the middle of two consultations for this interview!). Who knows? So long as we all survive, being forced to take mainstream education offline, or online I guess would be the more accurate term, might just be blessing in disguise for educational alternatives worldwide."
We'll take the bet that Jerry is right. After all and even though countless philosophers, politicians and patriots have said this before in some way… the one universal characteristic about democracy is that it is inherent to the human spirit. This is why, despite times when it, along with liberty and justice, can get battered and bruised, it can go to such extraordinary lengths to resist defeat. This is because we have the need to keep forging onward while fighting to have our voices heard. It's just the way human beings are wired, and it is why democratic education works so well to create empowered, emancipated and enlightened learners and leaders alike.
If you would like to learn more about AERO, or to schedule a consultation with Jerry about educational alternatives to meet your needs, please contact him directly.
Join the Small Schools Movement!
Would you like your organization or small learning community showcased in our member spotlight? If you are not yet a member of the Small Schools Coalition, we welcome you to join us totally free-of-charge.
If you are already a member, contact us to discuss how we can give you the complimentary platform to show the entire world what makes your small school special!